Methodology WP3
Addressing the two fields identified by the project – industrial training and informal learning – is very challenging, due to a wide range of different needs and expectations from the two pilot activites.
For this reason, the NKUA (National Kapodistrian University of Athens, one of the project's partners) team defined a methodology for eliciting user requirements.
The framework begins by understanding the different contexts targeted by BRIDGES project. Concretely, how the major international airports in Germany (FBB) and Greece (AIA) train their firefighters and first responders, and how the Foundation of the Hellenic World (in Greece) creates programs for enhancing the visitors' experience.
Then, we study existing material (for instance videos of the activities) provided by our partners. We also participate in (onsite) training or learning activities, and we involve our partners in an iterative ideation process using focus groups, interviews and questionnaires.
So far, as part of the requirements elicitation process, members of the NKUA team attended an emergency training drill held at the Athens International Airport on 3rd December 2020: the in-house fire department had to extinguish a fire and evacuate a (training) aircraft.
The collected users' needs are listed, grouped (into categories such as pedagogical, experiential, technical, operational, etc.) and prioritized.
This will then lead into an informed process of designing the scenarios of the experiences to be tested as part of the pilots. The list of prioritized requirements also creates the basis for compiling the functional specifications.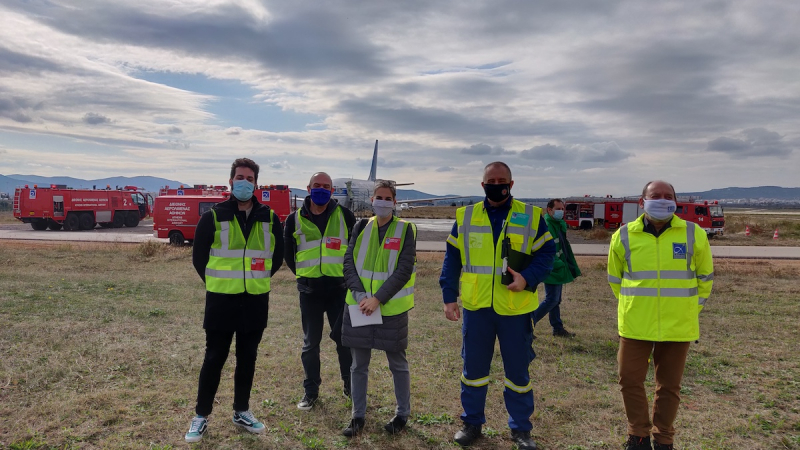 In the photo the BRIDGES team is working on the preliminary activities of the pilot.
Left to right: Thanos Soulis, Dimitris Nastos, Maria Roussou (NKUA), and Fire Commander Col. George N. Karamanlis and Spyros Papagiannis (AIA).